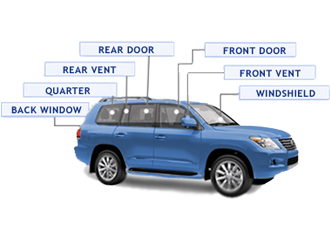 Auto Glass of San Diego has replaced car door windows that have been broken in many different ways.
Errant golf balls, retrieving keys locked in vehicle, vandalism, and everybody's least favorite… thieves (it's always a good idea to hide your GPS, Ipod, purse, etc.. when parking your vehicle).
All of these circumstances leave you in the same position, an unsecured vehicle with shattered door glass covering the interior.
Now for the good news. You have found Auto Glass of San Diego! We know that nobody plans for this inconvenient and potentially costly repair. That's why our courteous and knowledgeable staff is trained to make this experience as painless and cost effective as possible.
So now what? In most cases we are able to provide door glass replacement the very same day. We have access to all late model and many classic car door glass. If you want to get this situation taken care of ASAP, it's important to contact us as early in the day as possible. This will allow us time to transfer your exact door glass from our warehouse to our shop. We also keep many of the common vehicle door glass in stock.
Once you have an appointment set, all you have to do is show up. Our certified technicians will inspect the vehicle and replacement door glass, then get to work. The typical door glass replacement takes about 45 minutes. The technicians will also vacuum all of the broken glass out of your vehicle's interior as well as inside the affected door panel. We also have mobile service available if you are unable to bring your vehicle to us.
Auto Glass of San Diego is a high volume auto glass replacement shop. We are the go to glass shop for many local dealerships. This allows us to get wholesale pricing from our aftermarket distributors as well as original parts, when needed. We then pass those savings on directly to our customers. We guarantee the lowest price in town. If you find a better deal, let us know. We will beat any written quote by $10.00!
Most of our customers wait for their vehicle while the work is being performed. For this reason our spacious lobby is appointed with a big screen TV, free WI-FI, beverage center, comfortable couches, children's activity center and even a foosball table.
If you have further questions or would like to set up an appointment please click below or give us a call. We look forward to assisting you!