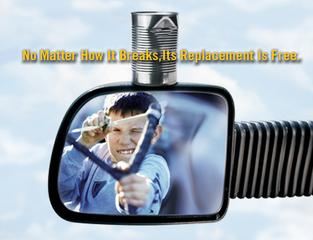 Side Mirror Replacement
The more technology improves, the more bells and whistles your side view mirror replacement may require.
Some of the features your car mirror might have include heating elements, turn signal markers, or a convex shape that provides a better peripheral reflection.
At Auto Glass of San Diego, we know accidents happen. If you need a broken side view mirror replaced on your vehicle, Auto Glass of San Diego is here to help. We have a huge inventory of side view replacement mirrors for all makes and models, at much more reasonable rates than the dealers. Check Your Vehicle Here
Occasionally due to heat, time, or impact, a vehicle's rear view mirror can detach from the windshield. Unfortunately, the glue kits that are sold at auto parts stores rarely seem to hold up. Attaching a rear view mirror to the windshield can be a bit tricky if the surface preparation is not done correctly or the wrong adhesion kit is used.
Many of our customers with this issue are frustrated and have wasted money, before they finally call us. Our professional technicians can take care of this for you, saving you time and money.
Just click below, or give us a call (619) 279-5690 to provide your vehicle information and one of our knowledgeable staff will be happy to assist you. Once you have scheduled an appointment, just bring it in and we can have it installed in about 30 minutes. Check Your Vehicle Here